Strengthen communication functions and enhance employee benefits in line with business expansion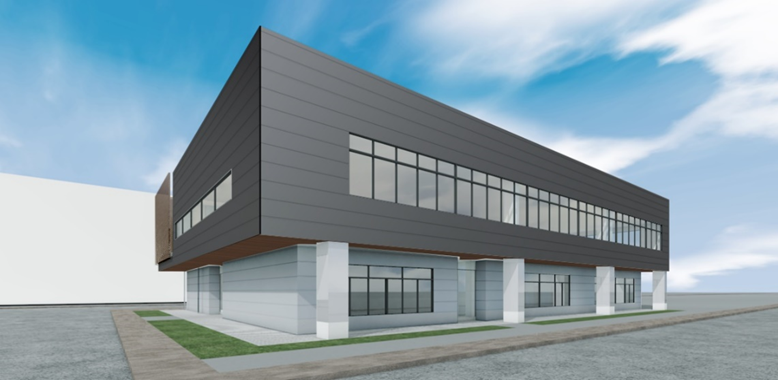 Oyama, Tochigi; March 30, 2023, Gigaphoton Inc. (Head Office: Oyama, Tochigi; President and CEO: Katsumi Uranaka), a manufacturer of lightsources for semiconductor lithography, announced that it will start using the new cafeteria building completed in the Komatsu Oyama Site, on April 3.
The semiconductor market is expected to grow in the medium to long term, and the production of Gigaphoton is also increasing year by year. Gigaphoton Headquarter in Oyama, which is responsible for technological development and production, is also increasing its staff, and it was necessary to expand cafeteria capacity to accommodate further employee increases in the future.
The new cafeteria building has two stories which contains 473 seats. It also works as a hub that connects employees of different buildings in Oyama Site. There is a multi-purpose room (meeting room) with 255 square meters, where employees in different divisions interact with each other, including technical development, production, customer support, and other areas.
The interior design of the new cafeteria building reflects the opinions of project members who participated from Gigaphoton employees. They are also engaged in part of the painting work to use there with attachment.
Katsumi Uranaka, President and CEO of Gigaphoton said, "As the production of Gigaphoton grows over the medium to long term, we treat our human resources the most important asset. We are actively investing in people and striving to create an environment where people can want to work in Gigaphoton. The new cafeteria building has become a building that further improves the quality of communication, which is a strong point of our company not only for employee welfare.
As a supplier of lithography lightsources essential for semiconductor manufacturing, we will work to further enhance the workplace environment and promote diversity and inclusion from the perspective of sustainability. "
Media Contact:
GIGAPHOTON Inc.
Corporate Planning Department
Kenji Ohishi
TEL: +81-285-37-6931
Email: web_info@gigaphoton.com