To respond to a significant increase in market demand
Oyama, Tochigi; October 6, 2023, Gigaphoton Inc. (Head Office: Oyama, Tochigi; President and CEO: Katsumi Uranaka), a manufacturer of lightsources for semiconductor lithography, announced that it held the grand completion of our cutting-edge production facility , which has been under construction since July 2022. This achievement represents a significant step in taking innovation to the next level and our production capacity.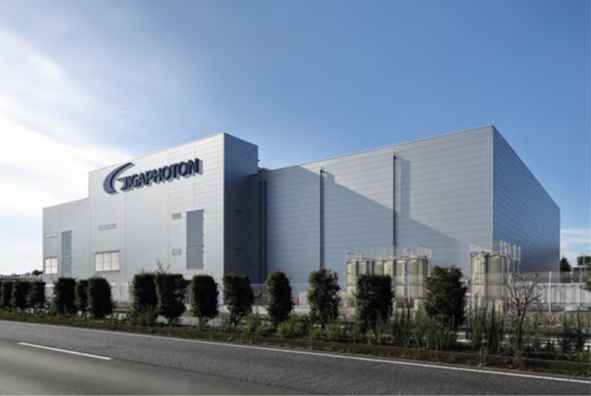 The appearance of the new production building
The newly completed production building, which was invested with 5 billion yen, is Gigaphoton's first dedicated building for production. In addition to improving production efficiency, the new facility aims to enhance employee welfare and has plans to increase the workforce in the production department by 2.4 times compared to 2020.
Since 2020, Gigaphoton has been gradually implementing measures to improve productivity and to expand production capacity through facility enhancements. With the operation of the new production building, Gigaphoton will be able to achieve its goal of increasing production capacity by 2.5 times compared to 2020.
Katsumi Uranaka, President and CEO of Gigaphoton said, " It is predicted that the semiconductor market will grow to a trillion-dollar scale by 2030, and the demand for lithography will also increase. Gigaphoton is committed to meeting customer demands by strategically expanding its production capacity.
Employee satisfaction is an essential factor in increasing production capacity. We have established a working environment that allows for diverse work styles through the implementation of multipurpose spaces and facilities that cater to diversity, based on ideas proposed by our employees.
As a supplier of lithography lightsources which are essential for semiconductor manufacturing, we will continue to contribute to the semiconductor industry by strengthening the supply and service of our products. "
About GIGAPHOTON
Since it was founded in 2000, GIGAPHOTON has delivered valuable solutions to semiconductor manufacturers throughout the world as a manufacturer of light sources. In every stage from R&D to manufacture, sales, and maintenance services, GIGAPHOTON is committed to providing world-class support delivered from the perspective of everyday users. For more information, please visit https://gigaphoton.com/
Overview of the new production building:
Location
400, Yokokura-shinden, Oyama, Tochigi, Japan
(In the same place of Gigaphoton Headquarter)
Structure / Size
Steel-frame Construction, 3-story building with a rooftop floor
Total Floor Area
81,130 square feets (7,537.23 square meters)
Investment Amount
5 billion yen
Media Contact:
GIGAPHOTON Inc.
Corporate Planning Department
Kenji Ohishi
TEL: +81-285-37-6931
Email: web_info@gigaphoton.com