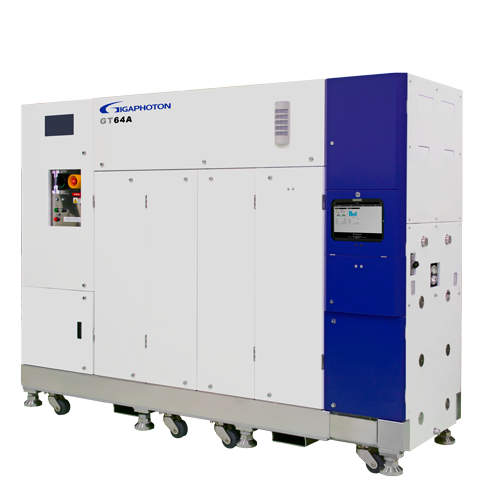 State of the Art ArF Immersion Excimer Laser Supporting 450mm Wafer Multi-patterning Lithography
The GT64A offers the industry's highest output power of 120W with high beam performance and stability. With design emphasis on performance, efficiency, and reduction of environmental impact, the product challenges the limits of total operational cost efficiency. This is the 6th generation of products to inherit Gigaphoton's timeless Injection Lock (TM) technology.
Based on the GT platform's renowned Twin Chamber Architecture, Output Control Algorithm, Beam Alignment Technologies, the GT64A delivers a power output of 120W, exceptional beam performance and stability, and the industry's top class reliability, recovery time, and module life.
---
Key Features
Insustry's Highest Level of Efficiency and Output Power
Based on the industry's highest level lasing efficiency achieved through the Injection Lock (TM) technology, the GT64A promises to deliver the necessary power (120W) for achieving high throughput on 450mm wafer multi-patterning lithography.
Auto-Adjustable Output
The GT64A is capable of auto-adjusting the output power to meet the specific requirements of each customers' processes. Furthermore, this feature also prevent generation of needless light, thus contributing to the reduction of the operational cost and environmental impact.
High Laser Beam Stability
High overlay accuracy, CD control, and reduction of line-edge roughness are extremely important for multi-patterning lithography. In order to address these requirements, the GT64A offers wide pulse widths and high energy, spectrum, and beam shape stability for all power levels.
Low Environmental Impact
One of the product's key design concept was the reduction of environmental impact. Because of this, the product is able to reduce the overall electricity, gas, and cooling costs to its limits, resulting in a reduction of total operational cost and impact to the environment.
General Specifications
| Item | Value* |
| --- | --- |
| Wavelength | 193 nm |
| Average Power | 60 – 120 W |
| Pulse Energy | 10.0 – 20.0 mJ |
| Max Repetition Rate | 6,000 Hz |
| E95 Bandwidth | 0.25 pm |
(*) Each of the above specification values represents a typical value.