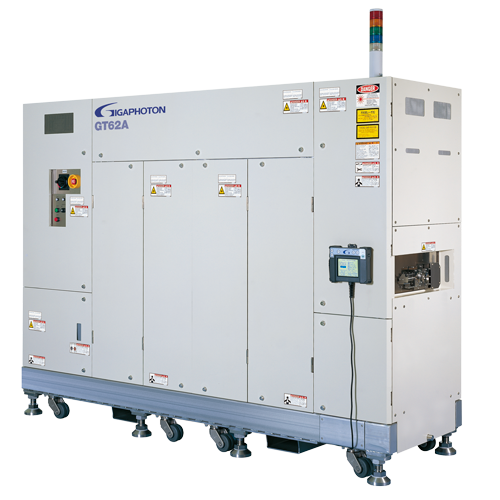 6-kHz Excimer Laser, Model GT62A: Designed for Double-Patterning Immersion Lithography Tools, Delivers World's Highest Output (90 Watts)
The GT62A, the latest model of the GT series, is the fourth-generation model featuring the same injection-locking platform; it delivers the world's highest output, 90 watts, to support double-patterning immersion lithography*. In order to meet a variety of customer needs, a 60-W version of the GT62A also is available to ensure maximum return on investment. In addition, the GT62A incorporates technologies that enable longer life of the laser chamber and optics so as to minimize downtime in support of the most advanced processing with less economic risk.
The GT series already has been accepted by major users in the global semiconductor industry, and its design concept and reliability have received wide acclamation. The GT62A is based on the same platform, thus maximizing standardization as well as enabling the use of common components. Users of the GT62A, therefore, can benefit from its high-reliability advantage right from the start.
---
Key Features
High Output and High Reliability
The GT62A features a newly developed power supply that enables high output of 90 watts (a 50% improvement compared with model GT61A). The light source also is mounted with a technology to take measures against the heat load, which increases as the output increases. It also has newly developed, highly durable optics to ensure high performance reliability even during high-output operation. The GT62A comes with Gigaphoton's original "Bandwidth Control Module (BCM)" technology as standard to provide a stabilized spectrum.
In order to meet a variety of customer needs, a 60-W version of the GT62A also is available. This version allows operation at the 60-watt mode at less cost, but can be upgraded to 90-watt mode when ready to scale; this flexibility enables the return on investment to be maximized.
Cost Savings
Today, semiconductor equipment has rapidly progressed to demonstrate higher performance and higher throughput. Gigaphoton is committed to ensuring that its lasers deliver high uptime over a long period of time in order to enhance customer fab productivity. The GT62A incorporates technologies that can reduce downtime caused by gas refill to one-tenth that of the previous GT series models; it enables longer life of the laser chamber and optics — ultimately reducing maintenance downtime and costs.
General Specifications
| Item | Value* |
| --- | --- |
| Wavelength | 193 nm |
| Average Output | 60/90 W |
| Pulse Energy | 10.0/15.0 mJ |
| Repetition Rate | 6,000 Hz |
| Bandwidth (E95) | 0.35 pm |
(*) Each of the above specification values represents a typical value