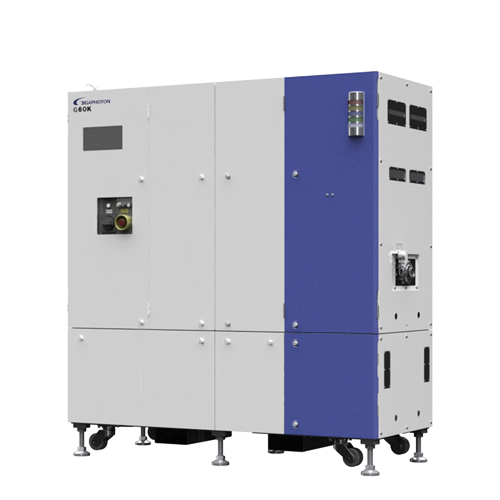 A KrF Lithography Light Source That Achieves a High Output 150% Greater Than the Previous Model to Meet the Output Demands of Tomorrow
Based on our KrF light source technology that is the result of many years of technological evolution and accumulated experience, the KrF lithography light source, G60K, which supports a scanner throughput of at least 300 wafers per hour, offers an output 150% greater than the previous model. Also, by extending the module's lifespan by 200%, the G60K delivers improvements in terms of availability as well. A newly developed power supply and module see the G60K support performance improvements such as higher frequencies in preparation for the higher outputs of tomorrow to meet the demands of KrF lithography technology in the years to come. Helium-free technology is also installed as standard, meaning the G60K also contributes to reducing the energy consumption of utilities.
---
Key Features
Scanner throughput boasts a greater output of 300 wafers per hour
By introducing a new power supply unit, it is now possible to output 60 W, which is 150% greater than the output of the previous model. This greater output suppresses throughput loss even for low-sensitivity resistances such as thick-film resistances, thereby contributing to even greater productivity.
Follows in the footsteps of our technology that already offers availability of at least 99.9%
Based on the technology of the G41K, a model that has received rave reviews by our customers for its high availability in the field and performance stability, the G60K achieves an availability of at least 99.9% in all output ranges. The introduction of new technology has extended the module's lifespan by 200% and offers improved availability.
Providing sustainable solutions
Equipped with helium-free technology as standard, the G60K is an environmentally friendly light source that mitigates the risk of a supply shortage of rare gas and also uses technology to reduce the energy consumption of utilities.
General Specifications
Item
Value*
Wavelength
248 nm
Output
40W – 60W
Pulse Energy
10mJ – 15mJ
Repetition Rate
4000Hz
Features
Continuous Reliability Improvement (CRI) Package
Sustainable Solution
・Helium Free Operation
・TGM Gas Management
(*) specifications are representative values