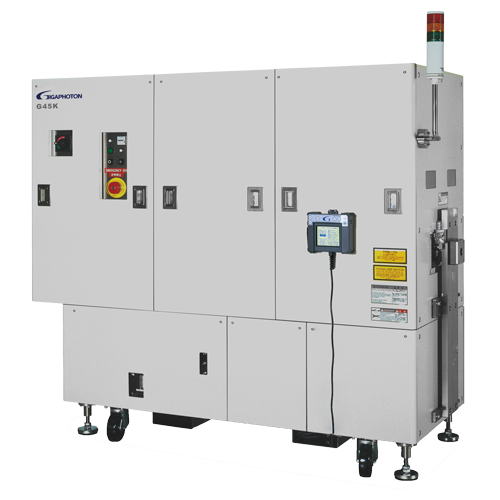 4 kHz KrF Excimer Laser Supporting 50 W Output
The G45K, the 3rd generation model in the 4 kHz KrF excimer laser series, is aimed at improving the efficiency of state-of-the-art memory chip production, providing a 50 W maximum high-power output. In addition, both "improved availability" and "reduced environmental impact" are realized through extension of the lifetime of the modules, and through the application of green technology.
---
Key Features
Higher output
A high output power of 50 W has been achieved, representing an increase of 25% in comparison to existing products. This contributes to productivity improvements for state-of-the-art memory chips.
Extended module lifetime
Downtime due to maintenance have been reduced by extending the main module lifetime by 20%. It conduces to further availability improvement in light source.
Green technology
"Helium-free" technology, which achieves zero consumption of helium during light source operation, is installed as standard. Also, it is compatible with the "hTGM" neon gas recycling system which contributes to reduced operational costs and environmental impact.
General Specifications
| Item | Value* |
| --- | --- |
| Wavelength | 248 nm |
| Average Power | 40 W – 50 W |
| Pulse Energy | 10.0 – 12.5 mJ |
| Max Repetition Rate | 4,000 Hz |
| Bandwidth (FWHM) | 0.35 pm |
| Bandwidth (E95) | 1.1 pm |
(*) Each of the above specification values represents a typical value.